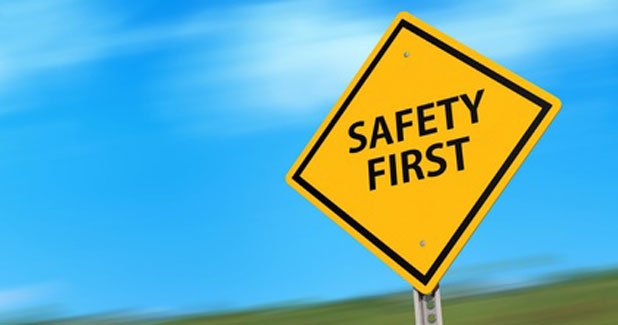 Broken overhead Door And Safety
As long as the overhead door you own run smoothly, and it include all the safety features that every garage door in the world should, there is no need to worry. But sometime the door can break, get stuck, or any other problem that may prevent a door from working properly. In that case, the door is no longer safe for use, and you will have to use a qualified garage door technician in Danbury to fix the door, and to make sure that it is safe to use again. It can be a residential door, or a commercial overhead door, broken rolling gate, or even a broken storefront gate, when there is a problem, your door turn from something that serve you every day, that something that easily become the cause for injuries.
Danbury Garage Doors have been repairing and installing overhead garage doors and roll up gates in Danbury for the past 20 years, and we have seen overhead doors falling off tracks and crushing on the floor, sometime even breaking objects located bellow the door. If you are the owner of a garage door or a rolling gate in Danbury, you are probably used to garage overhead door that operate in a safe way whenever we need the door to, but we are forgetting one important thing: Our overhead door weigh hundreds of pounds, which makes the door dangerous in case something goes wrong. If there is a problem, if the door is not moving smoothly, or if the door is off tracks, stop using it. It is not safe!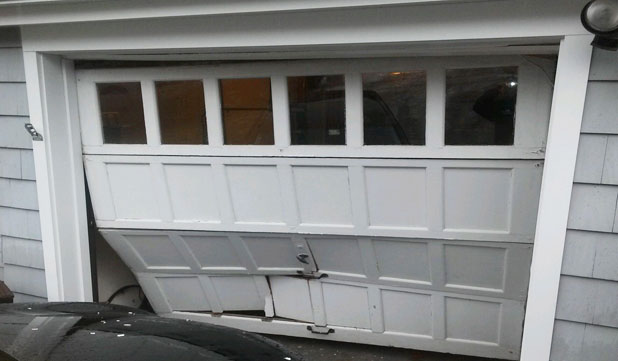 It may seem to you that the problem is minor, and you may even think that if you will force the gate to open or close, the problem may disappear. But you are probably wrong, and you can make the damage bigger, and you will put yourself at risk. Not only that using a broken gate can be dangerous, but using a broken gate will probably lead to a bigger damage, which will cost you more time and money if you listen to the warning, and use a trained garage door expert in Danbury for the repair. Always keep the garage door safety rules in mind, and avoid using a broken overhead door!
Garage Door Safety Issue
Your garage door in Danbury is probably the largest moving object in your home, and as such, it can be dangerous when it is being used in a wrong way, or when something is wrong with it. We are used to the fact that our overhead door open and close whenever we need it to, and which work in a perfect way, as every overhead garage door in Danbury should, and with the proper maintenance, there is no reason why it shouldn't. But, and this is the important part about the garage door safety, if there is something wrong with the way your garage door is working, or if your garage door is making strange noises, or if the garage door is not working in the smooth way it used to work, you better use the services of a qualified garage door technician to come and inspect the door. Many times, the repair is basic, such a broken sensor, or a garage door which need to be lubricated, but not once, the problem is much more serious such as a broken spring or a snapped cable, and the require a bigger repair, but more important – can be dangerous.
The only safe way to deal with a broken overhead door garage door, commercial or residential is simple: To stop using the door! As tempting as it may seem, just to push the door up or sown, or to try and press the key switch repeatedly to make the door work is dangerous, and not once overhead doors crushed and broke.
Video:
Garage Door Danbury
Garage door safety: Do not use a broken gaarge door, and contact a local technician in Danbury CT to fix the door for you.
We witnessed cases where the garage door came off tracks and broke cars, we saw roll up gates that locked people inside stores, and we saw people that instead of using a repairman for repair that could cost them like 100$, needed to replace the whole door just because they chose to ignore the problem. We will repeat it again: If you own a garage door, and there is something wrong with the door, use a qualified technician to fix the door. It can be a commercial garage door in Danbury, or a residential broken garage door repair in Fairfield County CT. Using a qualified technician can make the difference between garage door that will be repaired on the spot, and will be safe for use again, and a garage door that can hurt someone.
Safety Cables for garage doors in Danbury
If the garage door you own, and it doesn't matter if it is a garage door in Danbury CT, or garage door in Calabasas CA, is equipped with extension spring system, it should also include safety cables. If you are not sure if there are such cables installed in your springs, go to your garage door and look at the springs. If you do have safety cables installed, you should see a steel cable which is threaded from one side of the spring, and coming out from the other side. The safety cables are not essential for the garage door to work properly, but they are essential for a safe use of the garage door. The safety cables are installed in case one of the springs will break, and they will protect the door, the people or any other object in your garage from getting hurt by the broken spring.
The safety cables are easy to install, and are not expensive, but they can save a lot of money and prevent from injuries in case the spring will snap one day. Few dollars can make the difference between a broken windshield or even injury, and just the need to replace the broken garage door spring, which did not make any damage thanks to the safety cables, which hold the breaking spring in its place.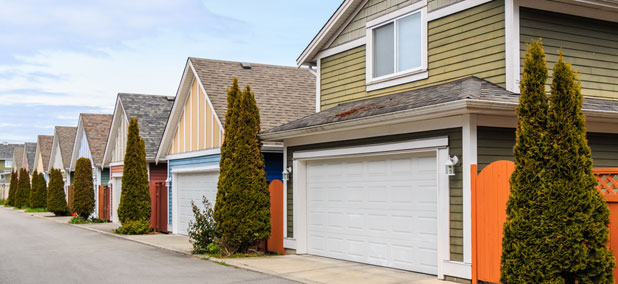 Garage Safety Sensors
If you own an electric garage door in Danbury (Operated by an electric garage opener, unlike the doors which are being used manually), and it doesn't matter if it a Liftmaster opener, or Genie opener, you should check and make sure that the opener also include a safety feature such as the safety sensors. The safety sensors are there for protection, in case a person, your pet, or even your car, will be placed at the door's path while it is automatically closing. The garage door safety sensors are not an option. It is a requirement by a federal law, which demand that every overhead garage door to include a safety feature. If your garage opener is very old, it is possible that it was installed before the requirement for safety sensors law was created and required, and it also possible that there is no way to install safety sensors and synchronize them to your current opener. In that case, we recommend you to replace the unit and install a new one, which will include safety sensors. If you live in Danbury, and you own an electric garage door, make sure that it include safety sensors. If not, know that you are risking life by using a door which is not safe for use.
If there are no safety sensors installed, there is nothing that will stop the closing door if there is something at the door's path. Just imagine that you are closing your garage door in Danbury just when your dog decided to run out of the garage. Nobody want that to happen.
It is both for your protection, and required by law. Danbury Garage Doors will refuse to service an automated garage door in Danbury NY which isn't equipped with safety sensors. We sometime receive calls for service from people who use an electric opener, but that doesn't have safety sensors installed, or that their safety sensors are installed in a wrong way, which doesn't allow them to do their job and prevent the door from closing when something is blocking it. In that case we will have to reinstall the sensors in the right way before we will repair the garage. Safety is something we will always follow, and instruct our technicians to follow the safety guidelines, which may seem unimportant at some time, but that one case when they protect from injury, or even save life is enough that we will follow them. It can be a garage door in Danbury, or garage door in Brooklyn, never ignore the safety guidlines.
If you own an automated overhead door, and the door doesn't include safety sensors, or if the safety sensors are not working, please call a local garage door technician in Danbury to repair it for you.
If you would like to try and repair the safety sensors by yourself, and not by hiring garage door technician in Danbury for the job, you can visit one of the following links we provide. Just remember that safety comes first, and if you are not sure, you can always use or ask garage door specialist in Danbury to assist you.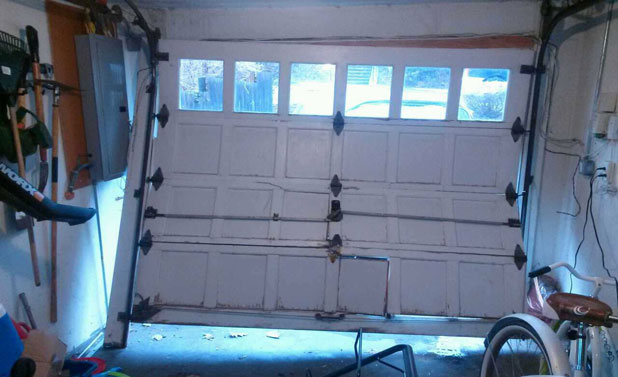 Broken Roll-Down Gate Safety
It can be a commercial, or a warehouse rolling gate in Danbury, just like the overhead doors, broken rolling gate should not be used. The rolling gate mechanism include parts like the spring, slots, the tracks, the motor, and other parts that can break. The way to deal with a broken rolling gate is one: To use a professional and qualified technician.
There are many possible reasons why a roll up gate get stuck, and we can deal with all of them. We have the experience, the tools and the parts required to repair a rolling gate, commercial roll up doors and more. So if you're rolling gate is broken, call Danbury Garage Doors us for same day rolling doors service in Danbury.
Safety and repairs
No broken garage door or roll up gate worth breaking a safety rule, and put yourself or your family at risk. And if you own a commercial space, and using a commercial rolling gate or commercial overhead door, keep in mind that you put other people in risk.
Fixing broken garage doors is what we do. We carry parts to repair ant broken rolling gate or garage door, and we compete 90% of the repairs on the spot. So you do not need to worry or to wonder when someone will come and fix the door for you. Danbury Garage Doors will do it today! We carry with us parts for most garages in Danbury, like torsion springs, cables, motors and more, to get the garage door working again ASAP.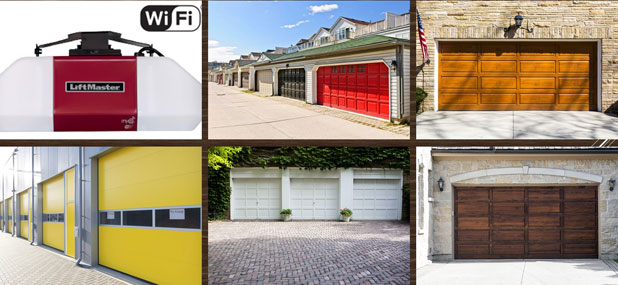 Do it yourself and safety

If you decided to fix the door by yourself, make sure that you understand the problem, you have the right parts and the right tools for the repair, and that you know exactly what to do and how to fix the door. If for some reason you are not sure, stop what you are doing, and call a local garage door company in Danbury. Do it yourself garage door repair is not the time for trial and error. If you will guess, it may be dangerous. Overhead doors can weight hundreds of pounds, and the spring system is under a lot of tension. Put your safety before anything else. There is no repair that worth your safety.
Fixing garage doors in Danbury is what we do, and you may think that we prefer that people will not try to fix their broken garage door by DIY. But if you could join one of our technicians in Long island, you could see how many people tried to fix their garage door by contacting garage door supplier in Danbury, purchasing the parts, and then find that repairing a broken garage door by DIY is not as easy as it seemed on the garage door repair Video they watched.
Rearing garage door require much more than just purchasing springs from Home Depot and replace the old springs. Home Depot carry only minimal amount of springs, for small percentage of the garage doors in Danbury. Using the wrong garage door spring is both dangerous, and will prevent the door from working properly.
For Garage Door Repair in Danbury
Call Now: 203-200-7773